It is not news to most people who followed the debate here at Blue Jersey and elsewhere that the pension reform bill did not save the pension system. A few, mostly cosmetic, changes were made that will have little effect on the deep structural problems in the fund. Some have even called the very notion that the bill solved even part of the problem idiotic.
But let's table all that for now and look at another threat to the pension fund: the growth of risk in the fund's investments. A threat that resulted from bi-partisan irresponsibility in managing the fund, particularly in not making payments or underfunding.
The lack of contributions, and in one case raid to pay for tax cuts, forced the fund's investment managers to seek more novel ways to get the returns necessary to maintain the solvency of the fund. The riskiest strategy by far is the increased use of "alternative investments" to get abnormal returns to plug the gap.
According to the investment section of the pension fund's annual financial report:


Investments in alternative investments are limited to no more than 28% of the portfolio. The individual categories of private equity, real estate, real assets, and hedge funds are limited to 7%.
Let's be clear, "alternative" is a euphemism for extremely risky. Putting aside real estate (how's that doing?) and real assets (commodities) the categories include private equity and hedge funds. These types of funds are so risky that only sophisticated investors are legally allowed in. This is because, though their returns can be large, the risk of major losses and even a fund collapsing is high.
As will be discussed later the pension fund's other, seemingly less risky, investments are having serious problems right now. Who knows what kind of exposure or danger the "alternative investment" section of the portfolio has.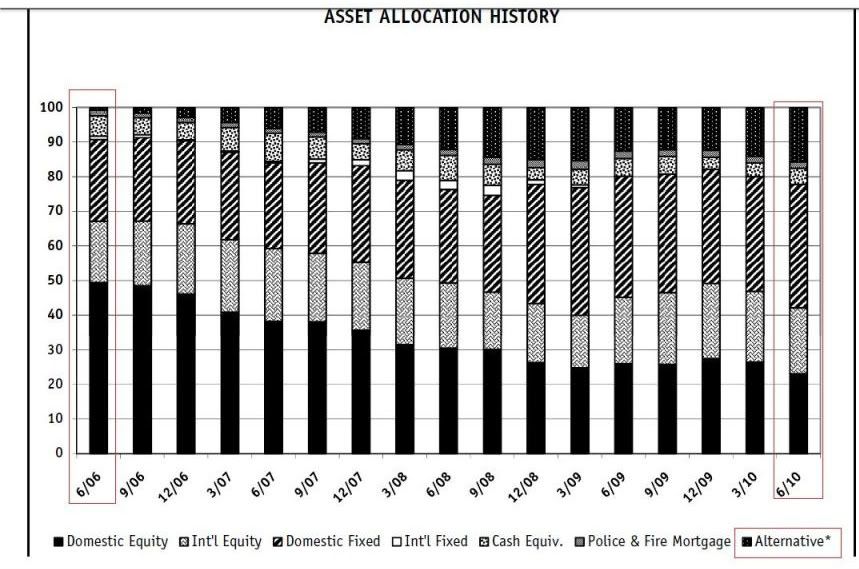 (The NJ Pension Fund has considerably extended its use of "Alternative Investments" – increasing risk)
But let me be entirely clear, this is not the investment managers' fault. This is the unfortunate but reasonable response to both political parties and their leadership failing to fully fund the pension system. Because of underfunding, investment managers had to try and do more with less and the only way to do that in finance is to take on more risk or be creative. Creativity in the arts is wonderful and life affirming, in money management it's generally a prelude to pain.
Bottom line: underfunding has lead to more risk in the pension fund, jeopardizing its stability and in the worst case its solvency.
(walk through after the jump)