Jazzman here, sitting in for Rosi on this late round-up (had hard time shaking off the jet-lag this morning — see below). Let's get to it:
Christie Debate Fallout:
There were two big Chris Christie moments in the clown show that was the Fox News Republican debate:
– Christie was not actually appointed US Attorney on 9/10/01 as he claimed in the debate. Politifact, as usual, thinks it's critically important to parse the meaning of the word "appoint." Personally, I think it's a minor issue: the governor has lied about so many other things that are so much more important ("Nothing about your pension is going to change when I am governor.").
– Christie mixed it up with Rand Paul once again, this time over the NSA's phone logging program. Did anyone else find it hilarious that Christie's retort to Paul included admonishing him for putting videos of himself on YouTube? No politician in America has exploited viral videos like Chris Christie, and all at the expense of the NJ taxpayer.
Paul's acolytes, meanwhile, apparently like to ruminate about these issues in cartoon form.
– The Asbury Park Press is searching for a Christie comeback, but it doesn't look good. The Record points out Christie's many lies about his record, including the absurd claim he closed the deficit. John Reitmeyer at NJ Spotlight wonders if Christie will finally have to answer for the economic mess New Jersey continues to find itself in.
Non-Debate News
– Maybe someone ought to tell Christie he's supposed to be running the state: "Gov. Chris Christie has now spent nearly 55 percent of the year outside of the state, according to an updated tally of his time traversing the country."
– Can Christie's numbers go any lower?
– Jersey City Mayor Stephen Fulop has hired a new spokesman, fueling speculation he is gearing up for a gubernatorial run.
– David Wildstein's sentencing for his part in Bridgegate has been pushed back. More incentive for him to pony up at Bill Baroni's and Bridget Kelly's trials? Meanwhile, Bill Sapien, Christie's former campaign manager, is dropped from a Bridgegate civil suit.
– I'm so old I remember when you couldn't miss Monday Night Football or you wouldn't get to see the highlights from the past weekend around the league. But Frank Gifford was a great player before he ever became the face of sports broadcasting in the 1970s. RIP.
Personal Note:
I just returned from a trip to Poland with some added time in Germany. It's a charming county with wonderful people and amazing sites, but the most moving part, by far, was visiting Auschwitz and Birkenau. On a literally 100 degree day, thousands of people came to remind themselves of the incredible evil that took place in this beautiful land.
These are the ruins of Birkenau, where most of the murders took place. Here's the memorial that now stands between where the two gas chambers and crematoriums were located.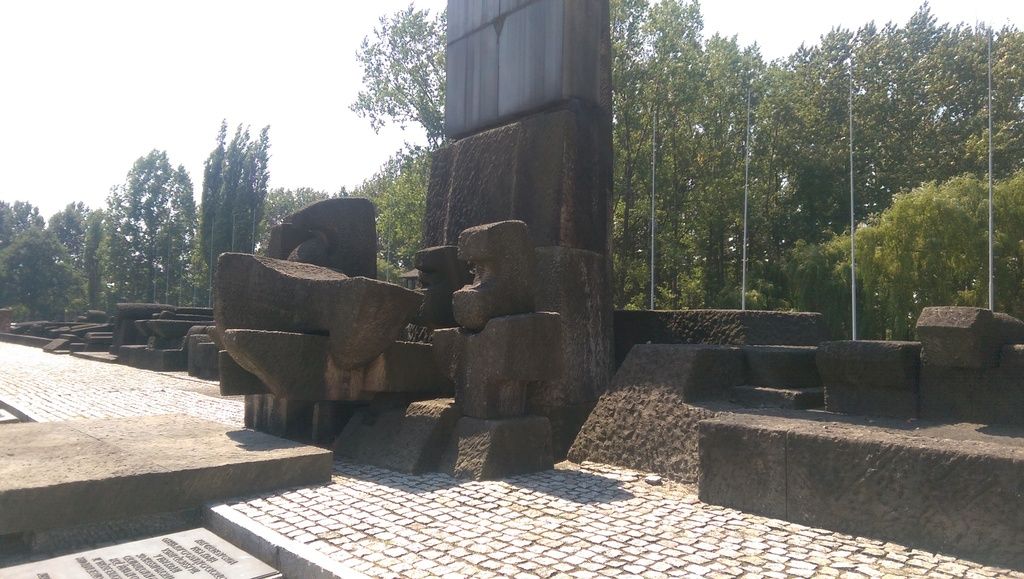 If you ever get the chance to visit, please go. We must never forget what happened at this place.