( – promoted by Jay Lassiter)
"Three things cannot be long hidden: the sun, the moon, and the truth." – Siddhartha Gautama
For those holding your breath – release. The Main Stream (read Corporate) Media finally exposed Chris Christie and Chris Cerf for what they actually are (read corrupt hacks trying to steal your tax money).
From the Star Ledger:
From 1999 to 2001, Christie was a registered lobbyist at a law firm that lobbied New Jersey government on behalf of Edison Schools, according to filings with the state Election Law Enforcement Commission. While the firm was representing the multinational education company, Chris Cerf was its general counsel….

Acting education commissioner Christopher Cerf and Gov. Chris Christie both once received paychecks from Edison Schools, a for-profit company that became the largest private-sector manager of public schools.
So Cerf was Christie's old boss and both their former employers are now their campaign donors and supporters. I am shocked SHOCKED to find conflicts of interest here!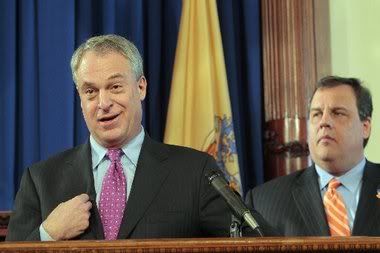 (Photo by Robert Sciarrino/The Star-Ledger)
I could go on about a larger conspiracy among union busters and plutocrats or even write say a three piece series on who bribed who and why. But that's been done.
The evidence, to quote Sarah Palin, is irrefudiateable.
The question now is will the people of New Jersey accept not only losing one of the greatest education systems in the world but also getting held down and tea party-bagged by these corporate tools as tax money is squeezed out of our schools into Murdoch's hands and then back onto Christie's campaign chest?




Will you?